The 1992 British Touring Car Championship season was the second British Touring Car Championship (BTCC) season which commenced on 5 April and ended on 4 October. The championship consisted of ten meetings, each held in the United Kingdom. Lorenzo Turri won the Overall and Manufacturer Drivers championships and Mike Bell won the Independent Drivers championship.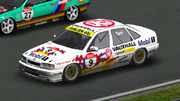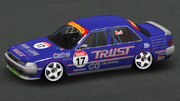 Changes for 1992
Edit
Rule changes
Edit
For 1992, drivers who failed to finish the race would not recieve any championship points.  Previously, drivers who had retired from the race would have recieved points based on their finishing position.
Team changes
Edit
Mitsubishi left the series after only one season. 3 new works teams entered the series: Shell Mazda Racing Team (Mazda 323F), Peugeot Talbot Sport (Peugeot 405 Mi16) and Ecurie Ecosse Vauxhall (Vauxhall Cavalier GSi). BMW switched from running the ageing BMW M3 E30 to the new BMW 318is. Vic Lee Motorsport scaled down their BTCC operation from two, two car teams to a single team entry running two BMW 318is'.
Drivers changes
Edit
1991 champion Roy Cop made the controversial move from Nissan to arch-rivals Toyota replacing Dimitris Gkaras who left the series. Cop's seat at Nissan was taken by Patrick Babiche who moved from Vic Lee Motorsport who scaled down their BTCC operation from 4 to 2 cars.
Lorenzo Turri left the departed Mitsubishi team to take a seat at Vauxhall Sport alongside 1991 Independent championship runner-up Kris Simton. They replaced Matt Hull and Phil Dodge who left the series.
Simton's 1991 team mate, David Todaro, also left Tech-Speed Motorsport to drive for the new Peugeot Works Team. Todaro was joined by newcomer to the series, Pekka Ylitalo from Finland. 1991 Independent champion Mike Bell was rumoured to be racing alongside Todaro at Peugeot, but chose to defend his title in a year old Toyota Carina at Park Lane Racing.
Johannes Meles left the works BMW team for Ecurie Ecosse partnering Arthur Davies who were making their debut in the series running Vauxhall Cavaliers. Arturo Smaglia replaced Meles but only ran in two rounds throughout the season.
Mazda entered the championship with a single 323F driven by Australian Matthew Wheeler.
Season summary
Edit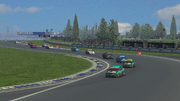 The first round of the 1992 STSR British Touring Car Championship took place at the "Home of British Motorsport", Silverstone.
Lorenzo Turri
made a great start to the season in his new team (
Vauxhall Sport
), and took pole position, two race wins and the fastest lap of the race weekend. Defending champion
Roy Cop
, now at
Toyota
took the win in the final race of the meeting and he trailed Turri by 13 points going into the next race meeting.
Thruxton played host to the second meeting of the championship and it was Turri who took maximum points from the weekend with pole position, two race wins and fastest lap. Cop and Independent leader Mike Bell each took a 2nd and 3rd place finish each. Turri extended his lead over Cop to twenty-one points with Bell a further two points back but a huge gap was emerging behind to Kris Simton, David Osborne and Michael Sneath.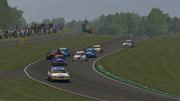 The third meeting of the season at
Oulton Park
played host to Round 6,7 and 8 of the Championship. Turri and Cop each achieved 50 points each to extend their lead over 3rd place Bell. Cop won pole position, achieved the fastest lap of the weekend and took victory in the 3rd race of the weekend finishing on the podium in the other 2 races. Turri also achieved 3 podium finishes a win and
Johannes Meles
also took his first win of the season. Bell had retired from the 2nd race of the weekend and despite a 4th and 5th place finishes, lost ground to 4th placed driver in the championship, David Osborne.
Snetterton hosted it's first British Touring Car Championship round for the 4th meeting of the year and was dominated by Turri who took maximum points from the weekend. Cop took away a couple of 2nd place finishes and Bell and Meles each shared a third and a fourth place finish. Mazda made their first appearance in the championship running a 323F with Australian Matthew Wheeler in the driving seat. In their first meeting together they managed a superb 2nd on the grid however they retired from the sprint race. In the feature race Mazda and Wheeler finished a fine 5th together.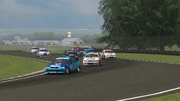 The fifth meeting of the season took place at the Wiltshire track of
Castle Combe
which was again dominated by Turri, once again taking maximum points. His nearest rival, Cop, managed a hattrick of third place finishes with Simton taking 2 second place finishes and Bell taking the third.
The championship returned to Brands Hatch for round 6 at the Grand Prix circuit. Ecurie Ecosse brought a second car to the meeting driven by Arthur Davies. However they couldn't stop Turri taking maximum points for the third meeting in a row. Cop's poor showing at Brands Hatch ensured Turri had a 62 point lead in the championship. David Osborne claimed his first podium of the season in the sprint race with an excellent 2nd place finish. His teammate, Babiche, mirrored Osborne with 2nd in the feature race. Meles also claimed 2 third place finishes.
Round 7 at Donington Park saw Mazda and Matthew Wheeler claim their first wins in the BTCC in the 2nd race of the meeting, the first race since Oulton Park where Turri didn't win although he did pick up 2 more wins over the course of the weekend.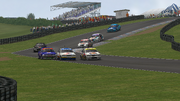 The BTCC returned to Scotland as
Knockhill
played host to the 8th meeting of the season. It was a return to form for Meles (4th in the championship), Cop (2nd) and Bell (3rd) as they all managed to claim wins to try and heap the pressure on championship leader, Turri, as the season entered its final stages.
The penultimate meeting of the season took place at the Brands Hatch Indy circuit. Turri won the first 2 races of the weekend and when the third race was cancelled, became the Overall and Manufacturer Drivers champion of 1992. Turri's team, Vauxhall Sport, only needed 4 points from the final meeting to become the Manufacturer Team's champion.
Silverstone played host to the season finale and true to form, was dominated by Turri once again. 2nd, 3rd and 4th were evenly spread between Osborne, Meles and Cop. In the end, Turri beat 2nd placed Cop by 103 points in both the Overall and Manufacturer Driver's championship, Vauxhall Sport beat Team Securicor ICS Toyota by 84 points in the Manufacturer Team's championship. Mike Bell and his Park Lane Racing team won both the Independant championships for 1992.
Teams and drivers
Edit
The following 15 drivers and 9 teams took part in the 1992 British Touring Car Championship (BTCC).
Race calendar
Edit
Calendar changes
Edit
The number of meetings on the calendar dropped from 12 to 10.
The Birmingham Superprix was removed from the calendar and replaced with the Snetterton circuit in Norfolk.
Thruxton and Donington Park both only held one meeting whereas in 1991 both circuits held two meetings.
Championship standings
Edit
Points system
Edit
Points system
 1st 
 2nd 
 3rd 
 4th 
 5th 
 6th 
 7th 
 8th 
 9th 
 10th 
 11th 
 12th 
 13th 
 14th 
 15th 
Pole Position
Fastest Lap
Of Meeting
18
16
14
12
11
10
9
8
7
6
5
4
3
2
1
1
1
Independent points system
Edit
Independent points are awarded to the top three drivers in each race as follows:
Points system
 1st 
 2nd 
 3rd 
30
20
10
Driver's ChampionshipEdit
Manufacturer Driver's ChampionshipEdit
Manufacturer Team's ChampionshipEdit
Independent Driver's ChampionshipEdit
Pos
Driver
SIL
THR
OUL
SNE
CAS
BRH
DON
KNO
BRH
SIL
Pts
1
Mike Bell
2
5
4
3
2
4
RET
5
4
3
4
4
2
5
5
4
5
3
4
4
1
3
3
C
7
6
5
750
Independent Team's ChampionshipEdit
Pos
Team
Driver
SIL
THR
OUL
SNE
CAS
BRH
DON
KNO
BRH
SIL
Pts
1
Park Lane Racing
Mike Bell
2
5
4
3
2
4
RET
5
3
4
4
4
2
5
5
4
5
3
4
4
1
3
3
C
7
6
5
750
Community content is available under
CC-BY-SA
unless otherwise noted.