The 1995 Auto Trader RAC British Touring Car Championship season was the fifth British Touring Car Championship (BTCC) season, which commenced on 2 April and ended on 24 September. The championship consisted of ten meetings, each held in the United Kingdom. Daniel Hurlock won the Overall and Manufacturer Drivers championships and Kris Simton won the Independent Drivers championship.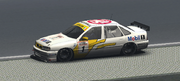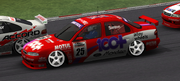 Changes for 1995
[
]
Rule changes
[
]
Following the controversies over aerodynamic aids in 1994, as first used by Alfa Romeo, BTCO announced that spec wings and spoilers would be allowed for all cars in the new season.
New for 1995 would be 'Success Ballast', a handicap weight system to help level the performance of the cars by adding extra weight to the 5 highest performing cars at the end of race 1, and again after race 2. In the case of the BTCO BTCC, at the end of each race the top 5 finishing cars will be designated success ballast for the next race.

This weight is stackable between races - for example, winning both race 1 and race 2 would mean a 100kg weight addition for race 3, whereas 3rd in race 1 but 7th in race 2 would mean just 30kg for race 3.
The top five point scoring drivers of a race meeting will carry half (rounded up) of any success ballast gained from that race meeting over to the next race meeting's qualifying session - but this will be reset back to zero for the start of race 1.
Success Ballast
 1st 
 2nd 
 3rd 
 4th 
 5th 
50kg
40kg
30kg
20kg
10kg
Team changes
[
]
2 manufacturers pulled out of the series at the end of 1994:
Nissan left the series after finishing in last place in the 1994 Teams' standings.
Mazda also pulled out of the series as a works effort after struggling to finish the 1994 season - but Mazda cars would continue to compete in the BTCO (see below).
In their places came several new entries:
Driver changes
[
]
The driver market for 1995 saw many drivers elect to change teams.
Three-time and reigning BTCC champion Lorenzo Turri left Alfa Corse to return to Vauxhall Sport, the team with which he dominated the 1992 season. Turri signed a one year deal with the Ray Mallock-operated team, in the final year of works competition for the venerable Cavalier - which saw the team downsize to just one car in order to maximise Turri's title chances, and also keep enough resources to develop their new 1996 car. Surprisingly, Kris Simton also opted to leave the Italian squad to join former privateers' champions Team Dynamics in their privately developed Ford Mondeo, who returned to the series having not appeared since the 1993 season where they helped Pekka Ylitalo win the Independent title in a BMW 318is.
With both of their Manufacturers' title-winning drivers (and reigning champion Turri) from 1994 gone, Alfa Corse evidently saw no reason to stay either - handing their BTCC operations to British firm Prodrive, who subsequently signed the displaced David Osborne from Vauxhall, as well as ex-Hamish Irvine driver Marie Müller, to drive the title-defending 155s in a year where they would suffer in the development race, and where their main advantage - aerodynamics - had been almost entirely negated.
Nathan Hammond left Ford - and indeed, the BTCO - near the end of 1994, and did not return for 1995. Halil Sahin chose not to continue at Ford after 1994, and left to join Swedish outfit Team Magic in the Independent championship, in the privately developed Mazda 323F. This left Chris English as the sole remaining driver from 1994. Downsizing to a 2-car operation, the Andy Rouse-operated Team Mondeo drafted in rookie Cosmo Marsh to partner English for 1995 in the hope of continuing their run of form that so far had led them to second in the Manufacturer Teams' Championship in both of their two years racing in the BTCC.
Meanwhile, Johannes Meles left the Renault Dealer Team for pastures new in the form of the Honda team. Joining the German at the brand new MSD-run outfit was former Mazda driver Emile Taylor. Taylor had missed the majority of the 1994 season after crashing heavily at Brands Hatch and damaging his Xedos 6 chassis, and joined Honda as he was looking for a seat anyway due to the end of Mazda's works efforts - and both drivers entered 1995 with a view towards helping to develop the Accord into a race winning car. Renault would also lose the services of Michael Sneath, who elected to take on a new challenge and joined BTCC newcomers Mint Motorsport, fighting for Independent honours in their single privateer Mondeo, leaving the team with 2 spare seats for 1995.
Having lost both of their drivers, both of whom had raced for the team since 1993, Renault ultimately lost interest in running a full works team, and signed management of their BTCC activities over to Williams Touring Car Engineering, a newly formed branch of the legendary F1 outfit. This lead to the signing two-time Independent champion Mike Bell - who left the TWR Volvo team in the process - and former Mazda driver Daniel Hurlock, who like Taylor before him was out of contract after Mazda's withdrawal of works support for the Xedos 6.
This initially left the Volvo team with no drivers for 1995, since Bell had been their only full-time driver in '94 - and it looked like they might not make the grid at all. The team were ultimately saved, however, by the signing of newcomer Sam Mumby. The outrageous Volvo 850 Estate would be no more though, as the new aerodynamic rules for 1995 left TWR opting to campaign the saloon version of the 850 instead.
1994 Independent Drivers' Champion and former Peugeot works driver David Todaro would heed the call back up to the works team for 1995, to run selected rounds with Total Team Peugeot - driving for the works team after a year out in 1993 and having won the Independent title in 1994 with Woodkirk Peugeot. However, his compatriot Ted Hough left the French team to join 4-time BTCC race winner Jake Black at Toyota - leaving Peugeot as a one-car operation in the last year of works competition for the 405 Mi16.
Mid season changes
[
]
Another American driver in the form of Diego Flores joined part-way through the season with the Hamish Irvine-run SCB Vehicle Dismantlers team in a privately run year-old Peugeot 405 Mi16.
BMW had hoped to compete full-time in 1995, retaining Kyle Benton and hoping to move up to a 2 car operation, but before the season started Team Schnitzer - who had ran the outfit since 1993 - withdrew from the BTCC, as they were unhappy with the prospect of running as a single-car entry and wished to focus their efforts on the German and Japanese touring car series instead. BMW employed its UK division to manage the BTCC efforts, but this late change in operations - alongside Benton finding himself unable to race at short notice - left the marque absent from the first half of the 1995 championship. Eventually, BMW would make the grid at Knockhill, with Chris Cobbett racing for the marque in a single BMW 318i.
After missing the final 3 rounds of the 1994 season, Nick Wu re-joined the field for the last round of 1995 with new team Thames Ford Dealers in a newly built Ford Mondeo. Notably, this car was a new build and was based on the 5-door Mondeo, rather than the 4-door car used by Team Mondeo and the other independents - though it used 1994 running gear. Some speculated this was a request from Ford to trial the 5-door car in race trim to evaluate it against the current 4-door chassis.
Season summary
[
]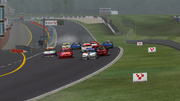 The first round of the 1995 BTCO British Touring Car Championship took place at Brands Hatch Indy circuit in Kent. Lorenzo Turri started the 1995 season just as he had finished 1994 - by taking pole position, albeit by just 0.09s from Johannes Meles. The opening race would see the reigning champion make the perfect start to the season, as he took a lights to flag victory. Behind him would be Meles in an outstanding performance for the debuting Honda Accord, taking 2nd place. Mike Bell rounded out the podium with 3rd on his debut for Renault. Bell's teammate Daniel Hurlock took victory in the second race of the weekend, with Ford's Chris English in 2nd and Toyota's Jake Black in 3rd position, making it 6 different drivers on the podium in the opening 2 races. Hurlock would double his win tally in the final race of the weekend, however, with Turri finishing 2nd and Bell again taking 3rd.
Hurlock (47 points) lead Turri (45), Bell (40), Meles and Black (both 38) in the Manufacturer Drivers' championship after the first round. Renault (87 points) took an early lead from Ford (55) and Toyota (48) in the Manufacturer Teams' Championship.
In the Independents' championship, Michael Sneath took 3 victories out of 3 ahead of Kris Simton, to stamp his authority on the title from the outset, with 54 points to Simton's 48.
Round 2 at Donington Park saw Black best Turri in qualifying, outqualifying him by 0.2s and becoming the first driver other than the Italian to achieve pole position since David Osborne in 1993. However it was Hurlock who was the star of the first race, taking his third win in four races and moving even further ahead in the Drivers' championship. Black held onto second for Toyota, and Bell made it two Renaults on the podium in third position. Bell would take his first win of the season in race two, narrowly edging out Meles - who would be forced to settle for second place. Black would round out the podium, finishing 3rd. Having missed out on the podium in the first two races, Turri found his way back to the top step in race three, taking a comprehensive victory and reaffirming his 1995 title defence. The ultra-consistent Black made it a hattrick of podiums by taking another second place, with Bell holding onto third to end the Donington meeting having finished on the podium in all three races.
Bell, now on 86 points, took the lead of the Manufacturer Drivers' Championship - overhauling team-mate Hurlock to lead by a single point. Turri dropped down to third with 81 points. Renault continued their early domination of the Manufacturer Teams' championship, now on 171 points - 78 points ahead of Toyota (93) and third-placed Vauxhall (81) with Ford dropping to fourth, a further six points behind.
Kris Simton had the perfect weekend in the Independents' championship, with a clean sweep of victories. His nearest rival, Sneath, endured a torrid time after tangling with fellow independent Halil Sahin in the first race, and having his Ford engine expire in race three. Simton would take the lead of the championship on 102 points from Sneath (86), with Sahin (30) getting off the mark after not appearing at Brands Hatch.
Thruxton played host to Round 3, with Hurlock taking his first BTCC pole at the Hampshire track - pipping second placed Turri by just 0.03s. Hurlock converted this into victory in Race 1, with his team-mate Bell making it a Renault 1-2 and achieving the fastest lap in the process. Turri rounded out the podium by taking 3rd place, but would have to endure a tough round - as he finished 11th in race two and didn't make the start in race 3. The second race saw Johannes Meles continue his superb run of form - by taking Honda's first BTCC win, just as he had done with Renault in 1993. It was the Renault pair who joined Meles on the podium, with Bell in second and Hurlock in third. In race three, Black found his form and took his - and Toyota's - first win of the season. English finished in second in the leading Ford, with Hurlock taking another third place.
This consistency gave Hurlock the lead of the Manufacturer Drivers' championship back, ending the race meeting with 132 points, with Bell only two points behind in second. Black's victory helped to propel him into third place on 107 points, overtaking Meles and Turri in the process.
Renault looked like the ones to beat in the Manufacturer Teams' championship, now on 262 points - an incredible 125 points ahead of second-placed Ford, who leapfrogged Vauxhall and Toyota to move back up the order, with the latter in third a further 11 points behind.
Michael Sneath fought back in the Independents' championship after a difficult outing at Donington Park - taking two wins in Races 1 and 2. The clean sweep of Thruxton was denied, however, as Simton would win Race 3, helping him to retain the lead of the championship on 152 points - albeit with a reduced lead of 14 points, down from 16 previously, with Sahin still on 30 points after not starting any of the three races.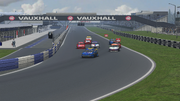 Round 4 took place at the National circuit at Silverstone, and Turri seemed like a man on a mission after a nightmarish Thruxton - taking pole position in the venerable Cavalier. The star of the session was Ford driver Joshua Anderson, however - with an incredible flying lap putting him just 0.09s behind the reigning champion, and qualifying second in the process - his previous best qualifying result having been a lowly 7th at Donington. Turri out-dragged the Mondeo driver at the start, however, and drove a peerless race to take the victory, alongside fastest lap, in the first race. Anderson' qualifying form did not last into the race, as Daniel Hurlock finished 2nd with Jake Black's Toyota taking third place. Race 2 would see another excellent drive by Meles, who took his 2nd victory of the season from reigning champion Turri and championship leader Hurlock in 2nd and 3rd places respectively. Renault would see victory once again in the third race, having failed to win any of the last four - as Bell took advantage of the reverse grid pole position to take the win. The star of the final race was David Osborne, though - who drove a sterling race to take his - and Alfa Romeo's - first podium of the year. Black would finish in 3rd place, after a race-long scrap with Anderson for the final spot on the podium.
Hurlock extended his lead over Bell in the Manufacturer Drivers' Championship, now on 172 points, 17 ahead of Bell in second - who led a fantastically close race within the top 5, with Bell (155) leading Black (147), Turri (146) and Meles (144). All five of these drivers, who represented 4 different marques, had all won races thus far, and were separated by just 28 points - and it seemed that the 1995 Drivers' Championship was on course to become the most competitive in its history. The same could not be said for the Manufacturer Teams', however, as Renault continued to dominate as the halfway point of the season approached - now on 327 points, with a seemingly unassailable 157 point lead over Ford in second place, who looked to be in for a very close battle with Toyota (168) and Honda (161).
Michael Sneath took his second clean sweep of the Independents' championship, with 3 wins out of 3 at Thruxton. Kris Simton had aimed to limit the damage to his title lead, and took 2 second places in races 2 and 3 - with newcomer to the series Diego Flores impressing by denying Simton the silver in race 1. Simton's lead over Sneath was reduced further to just 6 points - 198 for Team Dynamics compared to 192 for Mint Motorsport - with Halil Sahin still third after another no-show, with rumours emerging that the Mazda 323F was suffering from a barrage of technical problems after damage incurred at Donington. Diego Flores, conversely, took 16 points from the single race he finished, after showing potential in his first BTCC race meeting but suffering problems in races 2 and 3.
Round 5 saw the first of two visits to Oulton Park, with the International layout being used for the first meeting at the Cheshire circuit. Black took pole position by 0.17s over Turri in qualifying, giving himself the early advantage - however, this was not to last as in the first race, Turri once again showed why he was the reigning champion by taking an imperious victory. The Renault duo of Bell and Hurlock would cross the line in second and third respectively. Black would make amends for this missed opportunity by taking the win in race two, with Hurlock's Renault and Meles' Honda rounding out the podium. Race 3 would see Ford succeed where they had failed in the previous 14 outings, with Chris English giving the Mondeo its maiden win of 1995, and its first since Snetterton in 1994. Turri's Vauxhall and Meles' Honda capped off the top 3 in the final race of the first half of the season.
Hurlock's lead in the Manufacturer Drivers' Championship increased further as the season entered its second phase, with the Renault driver standing on 212 points - 19 more than team-mate Bell. The battle within the top 5 intensified further, with Bell's 193 points only just giving him second place from Turri (192), Black (188) and Meles (184). Sixth placed Osborne (126) and seventh-placed Marsh (115) would round out the "full-time" drivers, after neither had the weekend they had hoped for at Oulton Park. English's win helped him to close the gap to his Ford teammate to just 3 points, remaining in eighth place. Todaro and Mumby (26) found themselves tied in a close fight in the top 10, with Taylor (24)'s Oulton Park outing giving him the lead over Hough (21) and Müller (5) the latter of whom was now risking being considered for contract termination after missing the last 12 races.
Renault's sheer dominance of the Manufacturer Teams' Championship continued unabated, with 405 points on the board. Their nearest competitors at the halfway stage, Ford, were on 227 points - an entire 178 points behind. It seemed almost certain that Renault would win the title in 1995, thanks to having competed in every race and taken 6 wins out of 15 races - but behind them, an interesting battle for the title of "best of the rest" was brewing, with Toyota (209), Honda (208), Turri's lone Vauxhall (192) and the Alfa Romeo team (131) all in contention for second place. Peugeot and Volvo (26) were tied in the battle for the wooden spoon, with Mumby's better attendance record giving the Swedish outfit the advantage heading into rounds 6-10.
Kris Simton managed to increase his lead in the Independents' Championship, with 2 wins to Sneath's one at Oulton Park, with the Mint Motorsport driver having bested Simton in race 1 before losing out in the next two. Simton's points total stood at 250 - 8 more than Sneath - after 5 of the 10 rounds had been completed. Sahin, whose place within Team Magic was in doubt after failing to show for any of the previous 3 rounds, was still third on 30 points - with a no-show from Flores keeping him in fourth place on 16 points.
The second half of the season saw the BTCC visit Snetterton for round 6 of the championship. One of the fastest circuits on the calendar meant qualifying was always going to be a close-knit affair, but in the end it was Johannes Meles who emerged as the early victor - taking his first ever BTCC pole position by 0.13s from Jake Black. Meles' qualifying form held into the race, taking his third win of the season by 1.1s from second-placed Lorenzo Turri and Daniel Hurlock rounding out the podium. The second race saw Chris English make an excellent charge up the grid in the opening laps to take the lead from Turri - and he held it until the end to take victory, making it 2 wins out of the last 3 races for Ford. Turri finished second again, 3.2s down on English - with Black coming home third. The third race started with significant action on track, as Emile Taylor (starting P2) and Johannes Meles (P4) both fell down the order after an incident in the opening laps, opening the way for David Todaro (P6) to briefly take second - only to lose it to Mike Bell after having an incident himself. This paved the way for Bell to catch and pass the pole-sitting Joshua Anderson for the lead by lap 4 - and he would not relinquish the position for the rest of the race, taking victory from team-mate Hurlock and Black's Toyota - making it two third places in one meeting.
Hurlock retained the lead of the Manufacturer Drivers' Championship, though the biggest change was behind him as Turri's consistency helped him to overhaul Bell for second in the standings - with Hurlock on 254 points and Turri 18 behind. Bell's championship hopes were very much alive however as he was only 2 points behind the reigning champion. Meles (222) and Black (219) both found themselves fighting for the title too, as the intense battle for the 1995 honours raged on unabated. Renault continued to dominate the Manufacturer Teams' Championship, however, with 490 points - 210 ahead of nearest rivals Ford, who were coming under increasing pressure from Honda (257) - the Japanese marque emerging as the Mondeo team's main rivals, with them being a two-car outfit also.
The battle for top honours in the Independent Drivers' Championship continued to be a two-horse race between Kris Simton and Michael Sneath - with Simton on 300 points to Sneath's 290. Diego Flores' results allowed him to bolster his points total and move to consolidate his third place in the championship ahead of the noticeably absent Sahin.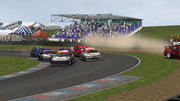 Round 7 saw the drivers take to Scotland for the annual trip "up north" to Knockhill, and it was Turri who took pole position for the first time since Silverstone, though he was made to work for it by Black who lost out by just 0.03s. With Knockhill being a fast track where overtaking is difficult, this was a huge boon to Turri's title hopes, and he showed this by taking the win from pole in race 1 - eking out Daniel Hurlock by 0.6s, with the ever-present Meles finishing third. Race 2 would not see Turri repeat the feat, however, as it was a charging Mike Bell who took victory after passing team-mate Hurlock on lap 17 - with Turri beating Hurlock to the line, forcing the Drivers' points leader to take the final step on the podium. Race 3 would be another dramatic affair - with polesitter Bell losing the lead on lap 1 after a multi-car collision, bringing out the safety car. The emergent leader at the end of this period was none other than Michael Sneath in the privateer Mondeo, who held the lead until he found three cars coming at him in the final corner of lap 3 - contact was unavoidable, and Sneath dropped to 8th place. The fight for the lead continued on nonetheless, with Meles and English fighting for top honours, and Jake Black moving past a resilient Anderson for third place. In the end it was the German who prevailed, with Meles' fourth victory of the season - from English and Black, both within 1 second of him. Anderson put on an excellent show to deny Hurlock P4 in a late-race scrap - giving the Ford driver his third fourth-place finish of what was turning out to be an impressive rookie season.
The end result of this action-packed race meeting would see Hurlock retain the lead of the Manufacturer Drivers' Championship - but with a significantly reduced lead. Hurlock's 293 points put him just 12 ahead of Turri. Bell found himself a further 8 points behind, with Meles (261) and Black (251) still giving chase. By this point, anyone outside the top 5 was realistically out of title contention, but a close battle between English (185), David Osborne (176), and Marsh (161) for sixth was still ongoing. Renault's lead at the top of the Manufacturer Teams' Championship increased again, with the French marque on 566 points from Ford (346) and Honda (315). In theory, they could secure the title at the next round - with just 306 points available to win, Ford would need to score 17 more points than Renault in the next race meeting to even theoretically remain in the running. Of some interest was BMW, whose very late entry into the championship saw them score their first 5 points of the year thanks to Chris Cobbett who otherwise had a difficult debut in the BTCC.
Kris Simton retained the lead of the Independent Drivers' Championship, but lost 2 points to Michael Sneath - with the Team Dynamics driver now leading 350-342 over the Mint Motorsport driver with 3 rounds to go. Neither Flores or Sahin took part this round, as rumours circulated that the issues with the Mazda 323F were not repairable and that the car would not compete again.
Round 8 saw the drivers return to the Oulton Park circuit, this time at the short and frantic Fosters layout, and Turri took pole position by just 0.04s from Black. Issues at the start, however, saw the Toyota driver retire on the opening lap, and Turri took a comfortable win from Meles in second and Bell in third. After a disastrous race 1 where he finished ninth while title rival Turri won, Daniel Hurlock knew he had it all to do - and he was very soon back on form with a victory in race 2, taking the win by 11.2 seconds. Few could have predicted who would be standing in the second place spot on the podium, however - as none other than Ted Hough, back after persistent mechanical issues with his Toyota, produced a sterling display to take his first podium in the BTCC. He led Meles over the line - the German earning yet another podium finish in a season that was rapidly becoming less and less predictable as it progressed. Race 3 saw some excellent battles for position, but it was Chris English who took his second BTCC victory by 2.9s from Hurlock, while Turri narrowly denied a podium finish to Bell - just 0.2s separating them as the Italian took third place.
Hurlock's 12 point lead in the Manufacturer Drivers' Championship had now been cut to just 8 points, with the British driver now on 334 points - as a better showing from Turri allowed the Italian to close in further on a potential fourth straight title. Bell (310) and Meles (306) were locked in a close battle for third, if not the overall title, while English's win and two non-starts from Black (254) allowed the Ford driver to close to just 30 points of fifth place. Renault's points lead of 234 points over Ford was now unassailable, meaning the French outfit clinched their first Manufacturer Teams' Championship in just their second year of racing in the BTCC, with 644 points scored and 2 rounds to go. Ford (410) were now hoping to beat Honda (373) for second in the Manufacturer Teams', with Meles' ever-improving form surely a concern for the Blue Oval.
Michael Sneath took 2 victories out of 3 in the Independent Drivers' Championship, but a retirement in race 3 saw Kris Simton take 14 points more overall - now standing 400-378 against Sneath. Team Magic formally withdrew from the championship at this point with Sahin once again unable to race due to the cascade of technical problems incurred with his Mazda 323F after damage sustained at Donington Park. 
The penultimate round of the championship, held at the Grand Prix layout of Silverstone, was a race with a few notable high-level absences - Bell, Osborne and Anderson all did not take part for various reasons. Of note also was the announcement that success ballast would not be awarded for the last 2 rounds of the championship, a decision that surprised many.
Lorenzo Turri capitalised on this to take yet another pole position by 0.5s from Hurlock in second. This form was translated excellently into a race 1 victory for the Italian - with Hurlock 3.2s behind and losing his championship lead with every race Turri beat him in. Meles once again rounded out the podium sitters. With no success ballast for race 2, all Turri had to do was fight through the field in a lighter-than-usual Cavalier to take another victory - which he did, but Hurlock pushed him all the way, only losing out by 0.39s on the line. Meles was once again third, the German continuing his fine run of form. Hurlock knew he had to respond in race 3 - and respond he did, winning the race by 0.9s from Turri and taking full advantage of his ballast-less Laguna. Meles made it 3 third places out of 3 at Silverstone - the first time that the same three drivers had shared the podium in all three races since the 1993 event at Knockhill.
Hurlock retained the lead of the Manufacturer Drivers' Championship, but his lead was now a narrow 5 points over Turri - the British driver leading 384-379. Meles was on 348 points, 36 behind Hurlock - and surely out of title contention by now, but could be proud of his pace in 1995. Bell (310)'s no-show dropped him out of title contention, but held a healthy lead over Jake Black (288) for fifth place. Renault's points lead in the Manufacturer Teams' grew further after Marsh's no-show and Hurlock's better results over English, the French marque now on 694 points. Ford were now in serious danger of losing second to Honda - with 442 points to Honda's 431. Turri's lone Vauxhall had managed to overhaul both Toyotas, putting the marques in fourth and fifth respectively.
Kris Simton extended his lead to 44 points in the Independent Drivers' Championship - merely finishing the first race at the next round would confirm him as champion. Another race 3 retirement for Sneath contributed to this significantly.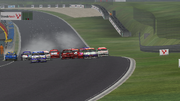 With the title on the line, the final round at Brands Hatch's famous Grand Prix layout would be the decider. The early momentum was with Turri, who took pole from Hurlock by a comfortable 0.47s, and closed the points gap to just four. This pole was converted into victory by 0.67 seconds from Jake Black, with Meles taking a fourth consecutive third place. Hurlock finished fourth - notably giving Turri the title lead by two points. The pressure of a potential fourth Drivers' title did not faze Turri in the slightest - with no success ballast, he was able to beat Hurlock once again to take victory by 2s from the Renault driver, Meles once again coming home in third place. With the final race of the season set to decide the title, Turri had the advantage - leading by four points, he knew that if Hurlock won the race, all he had to do was finish third and he would win the title on count-back. What neither driver could have expected was to both be caught up in several incidents near the start of the race, dropping both drivers far down the order. Such a dramatic start meant that the title would be won by the driver who recovered the best - both drivers did a fantastic job to charge up the order, with Hurlock taking victory in race 3 - denying Jake Black by just 0.02 seconds. With Black's teammate Hough just 0.3s behind him, he knew that he had done enough to take the title - Turri came home in fourth place. Had Hurlock not made this move, he would have lost the title on count-back - meaning the 1995 Manufacturer Drivers' Championship was literally decided on the finish line of the final race of the season.
The nearly-inseparable title challengers had put on a sensational show over the year, culminating in the closest battle for the title in BTCO history - but in the end, Hurlock (430 points, 7 wins) prevailed over Turri (428 points, 10 wins) to dethrone the Italian and becoming only the third driver to win the Overall and Manufacturer Drivers' Championships. Meles capped off an incredible year with two more podiums, ending the season in third on 387 points - and surely as the "best of the rest" in 1995. Black's two second places combined with a no-show from Bell allowed him to confirm fourth place in the Manufacturer Drivers' standings from Bell in fifth. A solid if uneventful meeting for Chris English saw him end the season on 287 points, with Osborne behind him on 233. In eighth was Cosmo Marsh, who had a tough final round in which they recorded only their second race retirement of the year - but could still be proud of their 198 points scored. Ted Hough's late-season return propelled him up the order to finish ninth with 111 points, ahead of Emile Taylor who rounded out the top 10 with 103 points. Sam Mumby finished eleventh in the sole Volvo with 65 points, whilst David Todaro, having only contested four rounds, was twelfth with 58 points. Marie Müller and Chris Cobbett rounded out the standings in joint last, both with just 5 points and only having finished one race of the 3 they both contested.
Independent Drivers' Champion Kris Simton finished the season on a high with 504 points from Michael Sneath in second with 462. Diego Flores' two apparances helped him to third with 58 points, with Halil Sahin's campaign ending after the first round but taking 30 points and fourth in the standings. Rounding out the order was the returning Nick Wu, who finished both races he started, scoring 28 points.
Renault dominated the Manufacturer Teams' Championship all season, finishing with a mammoth 740 points - the third-highest points haul in BTCO history after Nissan's displays in 1993 and 1991 - as well as being the second-highest points total under the current post-1991 points system. Anderson's weak final round paired with Meles' consistency in the later part of the season saw Honda overtake Ford for second in the standings - with 490 points to Ford's 485. Toyota ended the season in fourth on 435 points, bolstered by Hough's return and overtaking Vauxhall for fifth - Turri being the lone points scorer in the lone Cavalier. Alfa Romeo ended the season in sixth, a world away from their 1994 successes, with just 238 points compared to 662 in 1994. Volvo's first year using the new 850 sedan was a tough one, Mumby being their sole driver and scoring just 65 points to seal seventh in the standings, with Peugeot ending in eighth on 58 points and BMW's sole appearance at Knockhill meaning they rounded out the manufacturers in last on just 5 points in a year to forget for the German marque.
Teams and drivers
[
]
The following 19 drivers and 14 teams took part in the 1995 British Touring Car Championship (BTCC):
Race calendar
[
]
Round
Circuit
Date
1
R1
Brands Hatch
(Indy Circuit, Kent)
17 April
R2
R3
2
R4
Donington Park
(National Circuit, Leicestershire)
8 May
R5
R6
3
R7
Thruxton
(Hampshire)
29 May
R8
R9
4
R10
Silverstone
(National Circuit, Northamptonshire)
11 June
R11
R12
5
R13
Oulton Park
(International Circuit, Cheshire)
25 June
R14
R15
6
R16
Snetterton
(Norfolk)
30 July
R17
R18
7
R19
Knockhill
(Fife, Scotland)
13 August
R20
R21
8
R22
Oulton Park
(Fosters Circuit, Cheshire)
28 August
R23
R24
9
R25
Silverstone
(Grand Prix Circuit, Northamptonshire)
10 September
R26
R27
10
R28
Brands Hatch
(Grand Prix Circuit, Kent)
24 September
R29
R30
Calendar changes
[
]
Castle Combe was replaced by a second Silverstone round for 1995.
Results
[
]
Championship standings
[
]
Points system
[
]
Points system
 1st 
 2nd 
 3rd 
 4th 
 5th 
 6th 
 7th 
 8th 
 9th 
 10th 
 11th 
 12th 
 13th 
 14th 
 15th 
Pole Position
18
16
14
12
11
10
9
8
7
6
5
4
3
2
1
1
Independent points are awarded to the top fifteen drivers in each race as follows:
Points system
 1st 
 2nd 
 3rd 
 4th 
 5th 
 6th 
 7th 
 8th 
 9th 
 10th 
 11th 
 12th 
 13th 
 14th 
 15th 
18
16
14
12
11
10
9
8
7
6
5
4
3
2
1
Driver's Championship
Pos
Driver
BRH
DON
THR
SIL
OUL
SNE
KNO
OUL
SIL
BRH
Pts
1

Daniel Hurlock
5
1
1
1
4
8
1
3
3
2
3
6
3
2
6
3
4
2
2
4
5
9
1
2
2
2
1
2
2
1
430
2

Lorenzo Turri
1
6
2
4
10
1
3
11
DNS
1
2
5
1
4
2
2
2
4
1
2
6**
1
4
3
1
1
2
1
1
4
428
3

Johannes Meles
2
5
5
12
2
9
5
1
5
4
1
7
4
3
3
1
6
6
3
5
1
2
3
5
3
3
3
3
3
5
387
4

Jake Black
4
3
4
2
3
2
7
6
1
3
4
3
5
1
5
13
3
3
12
3
3
13
DNS
DNS
4
5
5
2
12
2
324
5

Mike Bell
3
4
3
3
1
3
2
2
4
DNS
9
1
2
6
4
4
5
1
4
1
7**
3
5
4
310
6

Chris English
7
2
6
4
4
2
8
5
1
5
1
7
6
7
2
5
6
1
8
4
4
6
4
7
287
7

David Osborne
9
7
10
7
5
5
6
5
RET
7
5
2
7
RET
7
6
7
8
5
10
10
4
10
6
7
7
6
233
8

Kris Simton
11
10
8
6
6
6
9
10
6
10
8
9
11
7
8
9
8
9
8
9
9
10
9
7
6
7
6
9
7
12
229
9

Michael Sneath
8
8
7
9
7
RET
8
7
8
6
7
8
6
8
9
7
9
11*
9
8
8
7
8
RET
7
8
RET
8
9
8
219
10

Joshua Anderson
10
9
9
8
RET
4
10
9
7
5
6
4
9
9
10
DNS
12
5
7
6
4
8
7
8
10
RET
10
198
11

Ted Hough
6
RET
DNS
5
DNS
DNS
6
2
RET
5
6
9
5
5
3
111
12

Emile Taylor
RET
9
DNS
10
10
11
8
13
RET
10
12
11
11
11
9
9
RET
7
11
8
7
103
13

Sam Mumby
RET
RET
DNS
11
RET
9
8
10
DNS
RET
RET
DNS
12
RET
RET
11
RET
DNS
12
DNS
DNS
10
9
DNS
13
11
11
65
14

David Todaro
10
8
DNS
12
8
RET
10
10
10
DNS
10
8
58
15

Diego Flores
9
RET
DNS
11
11
12*
21
16

Halil Sahin
11
DNS
7
14
17

Nick Wu
12
10
DNS
10
18

Marie Müller
RET
RET
11
5
=

Chris Cobbett
RET
11
RET
5
Flores (11th) and Sneath (12th) swapped positions as Flores was judged to have been at fault for lap 1 incident involving Sneath.
Bell (6th) and Turri (7th) swapped positions as Bell was judged to have been at fault for incident involving Turri.
Manufacturer Driver's Championship
Pos
Driver
BRH
DON
THR
SIL
OUL
SNE
KNO
OUL
SIL
BRH
Pts
1

Daniel Hurlock
5
1
1
1
4
8
1
3
3
2
3
6
3
2
6
3
4
2
2
4
5
9
1
2
2
2
1
2
2
1
430
2

Lorenzo Turri
1
6
2
4
10
1
3
11
DNS
1
2
5
1
4
2
2
2
4
1
2
6**
1
4
3
1
1
2
1
1
4
428
3

Johannes Meles
2
5
5
12
2
9
5
1
5
4
1
7
4
3
3
1
6
6
3
5
1
2
3
5
3
3
3
3
3
5
387
4

Jake Black
4
3
4
2
3
2
7
6
1
3
4
3
5
1
5
13
3
3
12
3
3
13
DNS
DNS
4
5
5
2
12
2
324
5

Mike Bell
3
4
3
3
1
3
2
2
4
DNS
9
1
2
6
4
4
5
1
4
1
7**
3
5
4
310
6

Chris English
7
2
6
4
4
2
8
5
1
5
1
7
6
7
2
5
6
1
8
4
4
6
4
7
287
7

David Osborne
9
7
10
7
5
5
6
5
RET
7
5
2
7
RET
7
6
7
8
5
10
10
4
10
6
7
7
6
233
8

Cosmo Marsh
10
9
9
8
RET
4
10
9
7
5
6
4
9
9
10
DNS
12
5
7
6
4
8
7
8
10
RET
10
198
9

Ted Hough
6
RET
DNS
5
DNS
DNS
6
2
RET
5
6
9
5
5
3
111
10

Emile Taylor
RET
9
DNS
10
10
11
8
13
RET
10
12
11
11
11
9
9
RET
7
11
8
7
103
11

Sam Mumby
RET
RET
DNS
11
RET
9
8
10
DNS
RET
RET
DNS
12
RET
RET
11
RET
DNS
12
DNS
DNS
10
9
DNS
13
11
11
65
12

David Todaro
10
8
DNS
12
8
RET
10
10
10
DNS
10
8
58
13

Marie Müller
RET
RET
11
5
=

Chris Cobbett
RET
11
RET
5
Manufacturer Team's Championship
Independent Driver's Championship
Pos
Driver
BRH
DON
THR
SIL
OUL
SNE
KNO
OUL
SIL
BRH
Pts
1

Kris Simton
11
10
8
6
6
6
9
10
6
10
8
9
11
7
8
9
8
9
8
9
9
10
9
7
6
7
6
9
7
12
504
2

Michael Sneath
8
8
7
9
7
RET
8
7
8
6
7
8
6
8
9
7
9
11*
9
8
8
7
8
RET
7
8
RET
8
9
8
462
3

Diego Flores
9
RET
DNS
11
11
12*
58
4

Halil Sahin
11
DNS
7
30
5

Nick Wu
12
10
DNS
28