The British Touring Car Championship is a touring car racing series held each year in the United Kingdom, currently organised and administered by British Touring Car Online (BTCO) It was established in 1991. The championship currently runs the FIA Super Touring regulations.
History
[
]
The introduction of a 2-litre, single-class touring car formula (devised in the UK and later adopted worldwide by the FIA as 'SuperTouring') – and with all cars running on unleaded fuel – attracted interest from major motor manufacturers, which led to unprecedented growth, unparalleled global interest and fierce rivalries. The BTCC quickly became the world's premier touring car series and, as such, the best possible global shop window for car companies wishing to promote their mainstream showroom models. The one-class system was popular with manufacturers from the beginning with five manufacturer supported teams from BMW, Mitsubishi, Nissan, Toyota and Vauxhall entered in the championship. During the first seasons, the cars were not fitted with aerodynamic aids such as a front splitter or a rear wing which were allowed from 1995.
1991
[
]
The first ever STSR season was a year long battle between Nissan and Toyota, and towards the end of the season Mitsubishi, but Nissan eventually won as Roy Cop took the Overall and Manufacturer Drivers championship ahead of Toyota driver Michael Sneath. Mike Bell and Auto Trader Techspeed Team took the Independent honours. Notable moments during the season included Mike Bell taking the first win by an Independent driver in the first ever race meeting, the first ever BTCC night race at Donington Park and Toyota driver Vik Rune getting banned from the series due to unsportsmanlike conduct in the Birmingham Superprix round.
1992
[
]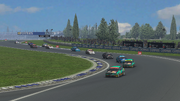 1992 was dominated by Lorenzo Turri of Vauxhall who took 19 wins out of a possible 26 and finished 103 points ahead of second placed (and defending champion) Toyota's Roy Cop who took three race wins. Mike Bell once again claimed the Independent title driving a for Park Lane Racing, also claiming an outright race win at Knockhill. During the season, there were also wins for Johannes Meles and Matthew Wheeler.
1993
[
]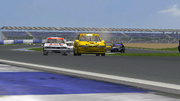 2 new manufacturer teams entered the series in 1993, Ford and Renault. Lorenzo Turri successfully defended his title driving for Ford, claiming 13 wins. His nearest championship rival, Mike Bell of Nissan took 6 victories. There were also wins for Cop (Ford, 5 wins) and Johannes Meles (Renault, 2 wins). Finland's Pekka Ylitalo took the Independent title driving a BMW for Team Dynamics. A notable event during the season was that at Round 6 at Pembrey, it was the first time during an STSR event that the podium was shared by drivers of the same nationality (Bell, Jaz Evered, Kris Simton).
1994
[
]
2 new teams (Alfa Romeo and Volvo), as well as the return of BMW and Mazda, ensured that the BTCC grid for 1994 would be much bigger than previous years. At Round 2 of the championship at Brands Hatch, a record 20 drivers took place in the race, a BTCO BTCC record. Lorenzo Turri made it 3 championships in a row in his Alfa Corse ran Alfa Romeo alongside former teammate, Kris Simton. Alfa Corse also won the teams championship. Throughout the season there were wins for Turri (17), Jake Black (4), Mike Bell (2) as well as single wins for Daniel Hurlock, Nathan Hammond and Johannes Meles. David Todaro won the Independent crown driving a Peugeot 405 for Woodkirk Peugeot who also won the Independent Teams championship.
1995
[
]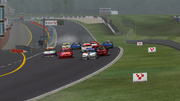 Honda joined the grid as a manufacturer for 1995, though Mazda and Nissan left the series. The championship went down to the very last lap of the very last race - in the end, Daniel Hurlock prevailed, becoming the first driver other than Turri to win the title since Cop in 1991. Turri lost out on a potential fourth title by just 2 points - making 1995 the closest ever BTCO season to date. There were six different race winners in 1995, with Turri (10 wins), Hurlock (7 wins), Bell and Meles (4 wins each) all taking the top step of the podium at some point, as well as a new race winner in the form of Chris English (3 wins) - with Black (2 wins) also taking victory. Kris Simton, driving for Team Dynamics, took his first Independent Drivers' Championship - beating Michael Sneath by 42 points.
1996
[
]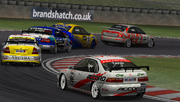 Audi arrived on the grid in 1996 and instantly became the team to beat with their 4-wheel-drive A4. Johannes Meles winning his first BTCC title, achieving 20 podium finishes, including 11 wins. Throughout the year, there were seven different race winners, from 6 different manufacturers; Meles had 11 wins and Black had 3 wins (both Audi), Hurlock with 4 victories (Renault), 3 wins each for Turri (Vauxhall) and Simton (Honda), 2 for Osborne (Peugeot) and a single victory for English (Ford). Henry Williams, driving for Mint Motorsport, took the Independent Drivers' Championship, driving a Vauxhall Cavalier.
Car regulations
[
]
Super Touring cars were required to be a minimum of 4.20 metres (13.8 ft) in length, with four doors, effectively requiring a small family saloon car as a minimum. No more than 2 litres engine capacity, or six cylinders were permitted, and the engine was required to be normally aspirated. Only two wheels could be driven and steered. For homologation, initially at least 2500 units of the model used must have been produced. In 1995, in a bid to counter the increasing numbers of homologation specials, this was increased to at least 25,000 units.
Circuits
[
]
Being a national championship, the BTCC has visited circuits throughout the United Kingdom over its long history. Currently the series visits eight different tracks in the UK over the course of ten meetings. These tracks are: Thruxton Circuit, Brands Hatch, Silverstone Circuit, Snetterton Circuit, Oulton Park, Donington Park and the Knockhill Racing Circuit in Scotland. In the past, the BTCC has visited a street race around the city of Birmingham known as the Birmingham Superprix in 1991, Castle Combe Circuit in 1991-1992 and 1994 and the Pembrey Circuit in Wales in 1993.
Race format
[
]
19:30  - Practice
20:00 - BTCC Qualifying One shot qualifying
20:30 - BTCC Race 1
21:00 - BTCC Race 2 reversed grid from race 1 results
21:30 - BTCC Race 3 reversed grid from race 2 results
Points system
[
]
Current points system
Points are awarded to the top fifteen drivers in each race as follows:
Points system
 1st 
 2nd 
 3rd 
 4th 
 5th 
 6th 
 7th 
 8th 
 9th 
 10th 
 11th 
 12th 
 13th 
 14th 
 15th 
 16th 
 17th 
Pole Position
Lead a lap
20
18
16
14
13
12
11
10
9
8
7
6
5
4
3
2
1
1
1
1996 points system
Points are awarded to the top fifteen drivers in each race as follows:
Points system
 1st 
 2nd 
 3rd 
 4th 
 5th 
 6th 
 7th 
 8th 
 9th 
 10th 
 11th 
 12th 
 13th 
 14th 
 15th 
Pole Position
Lead a lap
18
16
14
12
11
10
9
8
7
6
5
4
3
2
1
1
1
1993-1995 points system
Points are awarded to the top fifteen drivers in each race as follows:
Points system
 1st 
 2nd 
 3rd 
 4th 
 5th 
 6th 
 7th 
 8th 
 9th 
 10th 
 11th 
 12th 
 13th 
 14th 
 15th 
Pole Position
18
16
14
12
11
10
9
8
7
6
5
4
3
2
1
1
1992 points system
Points are awarded to the top fifteen drivers in each race as follows:
Points system
 1st 
 2nd 
 3rd 
 4th 
 5th 
 6th 
 7th 
 8th 
 9th 
 10th 
 11th 
 12th 
 13th 
 14th 
 15th 
Pole Position
Fastest Lap
Of Meeting
18
16
14
12
11
10
9
8
7
6
5
4
3
2
1
1
1
1991 points system
Points are awarded to the top seventeen drivers in each race as follows:
Points system
 1st 
 2nd 
 3rd 
 4th 
 5th 
 6th 
 7th 
 8th 
 9th 
 10th 
 11th 
 12th 
 13th 
 14th 
 15th 
 16th 
 17th 
Pole Position
Fastest Lap
20
18
16
14
13
12
11
10
9
8
7
6
5
4
3
2
1
1
1
Current Independent points system
Points are awarded to the top fifteen drivers in each race as follows:
Points system
 1st 
 2nd 
 3rd 
 4th 
 5th 
 6th 
 7th 
 8th 
 9th 
 10th 
 11th 
 12th 
 13th 
 14th 
 15th 
 16th 
 17th 
20
18
16
14
13
12
11
10
9
8
7
6
5
4
3
2
1
1993-1996 Independent points system
Points are awarded to the top fifteen drivers in each race as follows:
Points system
 1st 
 2nd 
 3rd 
 4th 
 5th 
 6th 
 7th 
 8th 
 9th 
 10th 
 11th 
 12th 
 13th 
 14th 
 15th 
18
16
14
12
11
10
9
8
7
6
5
4
3
2
1
1992-93 Independent points system
Points are awarded to the top three drivers in each race as follows:
Points system
 1st 
 2nd 
 3rd 
30
20
10
1991 Independent points system
Points are awarded to the top seven drivers in each race as follows:
Points system
 1st 
 2nd 
 3rd 
 4th 
 5th 
 6th 
 7th 
10
8
6
4
3
2
1
Previous champions
[
]
Season
Overall
Manufacturer
Independent
Secondary
Drivers' Champion
Teams' Champion
Drivers' Champion
Teams' Champion
Drivers' Champion
Teams' Champion
Drivers' Champion
Teams' Champion
1991
Roy Cop
Nissan Janspeed Racing
Roy Cop
Nissan Janspeed Racing
Mike Bell
Auto Trader Techspeed Team
1992
Lorenzo Turri
Vauxhall Sport
Lorenzo Turri
Vauxhall Sport
Mike Bell (2)
Park Lane Racing
1993
Lorenzo Turri (2)
Nissan Castrol Racing (2)
Lorenzo Turri (2)
Nissan Castrol Racing (2)
Pekka Ylitalo
Team Dynamics
1994
Lorenzo Turri (3)
Alfa Corse
Lorenzo Turri (3)
Alfa Corse
David Todaro
Woodkirk Peugeot
1995
Daniel Hurlock
Williams Renault Dealer Team
Daniel Hurlock
Williams Renault Dealer Team
Kris Simton
none
1996
Johannes Meles
Audi Sport UK
Johannes Meles
Audi Sport UK
Henry Williams
1997
1998
Production Class

1999

Drivers' Champion
Teams' Champion

2000
Support races
[
]
-
Previous support races
[
]
See Also
[
]
British Touring Car Championship records
British Touring Car Online Register