Emile Taylor (born 9th January 1997) is a British racing driver currently racing in the British Touring Car Championship for Volvo S40 Racing.
Touring Cars
[
]
British Touring Car Championship
[
]
Taylor debuted for Team Mazda for the 1994 season. Results were lackluster however during the 4th race at Brands Hatch, his Mazda Xedos made collision with a wall resulting in a large crash. While the car was repaired for the remaining races at Brands. The damage to the chassis proved to be worse then previously thought and Team Mazda would run a one car operation with Daniel Hurlock ending 9th overall in the championship. Taylor would finish 21st overall in the Championship.
Emile Taylor returned in the 1995 season driving for the debuting Honda Team MSD, using the Honda Accord. Helping assist them on to the grid and bringing Kenwood onboard as a main sponsor. He teamed with veteran driver Johannes Meles who took a chance on the new outfit. The team proved surprisingly successful with Meles scoring 4 wins and 12 podiums far surpassing expectations. While Taylor initially sat on the sidelines in order to help the team keep Meles car in a winning form. With a testing run at Donington being his only on track action until Round 5 at Oulton Park, while posting results that didn't suggest much with two 7th place finishes being his highlights. He made massive improvements on his 1994 pace and ended up placing 12th in the drivers championship with 103 points. While not hugely impressive his points contributed to Honda achieving 2nd place in the constructers championship beating out the Ford team by 5 points. Teammate Johannes posted a staggering 3rd overall his best result in BTCO history.
Taylor participated in the 1995 Touring Car World Cup, driving a Honda Civic Ferio he had purchased from Team DRM. For his own team, Team TaylorMade Imports. He achieved 2nd in class after being beaten out by MSR's Joshua Anderson on fastest lap alone due to both teams scoring 70 points total.
For 1996 Meles left the team amicably for the new and promising Audi team, Taylor was retained by Honda hoping to keep the team's momentum up with new signing, 1995 independents champion Kris Simton as his teammate. Taylor would finish 10th overall in the championship with a best finish of 6th while also helping Honda achieve 3rd in the teams championship. Simton would finish 4th in the drivers standings.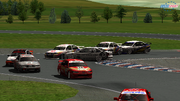 For 1997 Taylor left Honda after sponsorship issues while originally looking out of a drive he would strike a 1 year, part-time deal at Vauxhall Sport driving alongside newcomer Ollie Page. Taylor would classify 14th overall in the drivers standings, beating his teammate for the first time ever. He achieved a best ever finish of 5th at Brands Hatch and would go to battle for the lead at the final round at Silverstone before a mistake cost several positions. He would achieve fastest lap in this outing.
For 1998 Taylor signed a deal with Volvo to drive the fancied S40 alongside Volvo stalwart Chris Pimm.
Motorsports career results
[
]
Complete British Touring Car Championship results
[
]
Races in bold indicate pole position (1 point awarded just for first race) Races in italics indicate fastest lap (1 point awarded)
(Key) (results in bold indicate pole position; results in italics indicate fastest lap)
(Key) (results in bold indicate pole position; results in italics indicate fastest lap)
| Year | Team Name | 1 | 2 | 3 | 4 | 5 | 6 | 7 | 8 | 9 | 10 | Points | Position |
| --- | --- | --- | --- | --- | --- | --- | --- | --- | --- | --- | --- | --- | --- |
| 1998 | ArgoCorse | [SNE] | SIL | DON | BRH | OUL | DON | CRO | SNE | THR | KNO | 0* | 0th* |
Career summary
[
]