Henry Williams (born 21st May 2002) is a British racing driver currently racing in the British Touring Car Championship for Vodafone Nissan Racing.
Touring Cars
[
]
British Touring Car Championship
[
]
1996
Mint Motorsport would sign up rookie Henry Williams to drive their newly-acquired Vauxhall Cavalier, after making the switch from Ford. Williams would go on to win the 1996 Independents Championship, along with a few strong finishes with a best of 2nd.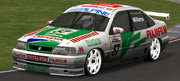 Motorsports career results
[
]
Complete British Touring Car Championship results
[
]
Races in bold indicate pole position (1 point awarded just for first race) Races in italics indicate fastest lap (1 point awarded)
(Key) (results in bold indicate pole position; results in italics indicate fastest lap)
Year
Team Name
1
2
3
4
5
6
7
8
9
10
Points
Position
1998
BTN Motorsport
[SNE]
5

SIL




DON




BRH




OUL




DON




CRO




SNE




THR




KNO



0*
0th*
Career summary
[
]