Kris Simton (born 25 November 1994) is a British racing driver who races in the British Touring Car Championship for Honda Team MSD.
Simton was born on 25 November 1994 in North Yorkshire, England.
British Touring Car Championship
[
edit
|
edit source
]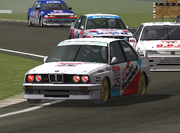 Simton was signed up to the Tech-Speed Motorsport team alongside the American David Todaro for the 1991 British Touring Car Championship. Results were very good for Simton including a win at Castle Combe (which he achieved on his 25th birthday, currently making Simton the only driver currently in BTCO history to win on their birth date.) as well as four other podium finishes and ten Independent championship class wins. Despite these results, Simton was beaten to the Independent drivers title by Mike Bell, perhaps owing to the fact Simton had missed the the 4th Round at Brands Hatch. However, his results helped the team win the Independent Teams title.
Simton left the Tech-Speed team at the end of the 1991 and Vauxhall Sport were impressed with his 4th place finish in the Overall Drivers championship and paired him with Italian BTCC race winner Lorenzo Turri who had joined from the departed Misubishi team. Simton would earn 3 podium finishes throughout the year, but couldn't match his team mates results and finished the season in 7th, but he managed to help Vauxhall win the Teams Championship.
For 1993, Simton joined Toyota to race the brand new Carina E ran by TOM's. Simton and Toyota got off to a great start with an impressive 2nd at the opening round at Silverstone. However, as the season progressed, Simton became unimpressed with the development of the new Carina and despite podiums at Oulton Park and Pembrey, the Carina fell down the performance pecking order. At the end of 1993, Simton finished 5th in the championship and despite an offer from Toyota to drive in 1994, he chose to team up with former teammate, Turri, at Alfa Corse. It would turn out to be a move that yielded little success. While Turri would go on to clinch his 3rd straight BTCO title, Simton could only manage a best result of 2nd following Turri home at Oulton Park (Island) for the one and only Alfa Romeo 1-2 of the season. He would finish 7th in the Championship, which left him frustrated after potientially being able to take 4th in the final round at Brands Hatch (GP).These chances were ruined after a disconnect happened in the final race of the season with 3 laps to go, with Simton looking set to pick up 4th in the standings. He would help however, along with Turri, get Alfa Romeo the Manufacturer's title for 1994.
For the 1995 season, Simton went back to his Independent roots, signing for Team Dynamics. A team that last saw success in 1993, picking up both Independent titles in the hands of Simton's friend Pekka Ylitalo. Simton picked up the record of most experienced driver in 1995, with 139 starts to his name currently. So far, he has missed only 1 round of the series to date at Brands Hatch (Indy) in 1991, due to life commitments. 1995, would also see Simton clinch the pair of Independents titles (Drivers and Teams) with 2 races remaining, this being his first drivers and Team Dynamics' second teams titles, after a titanic scrap with Michael Sneath that seemed to last the entire season with both cars seemingly inseperable on the track, however the 26 year old Devonian would eventually best his northern rival by 42 points.
For the 1996 season, Simton left Team Dynamics after the team withdrew from the season citing a lack of competition in the Independent class. Instead, he took up the vacant seat left at Honda Team MSD alongside Emile Taylor. 3rd place finisher in 1995, Johannes Meles had left the team after the German had moved to Audi Sport for 1996. Simton cited that the move was made after he was impressed by the great results of Meles in 1995 with the then-new Accord, and new team-mate Taylor had shown vast improvement over the season as well.
Motorsports career results
[
edit
|
edit source
]
Complete British Touring Car Championship results
[
edit
|
edit source
]
Races in bold indicate pole position (1 point awarded just for first race) Races in italics indicate fastest lap (1 point awarded)
(Key) (results are overall/class and in bold indicate pole position; results in italics indicate fastest lap)
(Key) (results in bold indicate pole position; results in italics indicate fastest lap)
(Key) (results in bold indicate pole position; results in italics indicate fastest lap)
Community content is available under
CC-BY-SA
unless otherwise noted.