Mike Bell (born 17 November 1995) is a British racing driver who races in the British Touring Car Championship for Williams Renault Dealer Racing. He won the 1991 British Touring Car Independent Drivers championship driving for ACE Motorsport and retained the title in 1992 driving for Park Lane Racing. Elsewhere, Bell won the 1992 VW Vento Cup.
Early Life
[
]
Bell was born on 17 November 1995 in Bristol, Somerset, England.
Touring Cars
[
]
British Touring Car Championship
[
]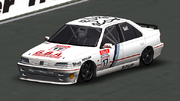 Bell signed a contract to race for independent team ACE Motorsport in the 1991 British Touring Car Championship driving a Peugeot 405. Bell would win the first ever race of the championship and along with another outright win in the feature race at the Birmingham Superprix as well as 21 Independent class wins and he would clinch the Independent Drivers Championship and finish a very impressive 3rd in the Overall Drivers championship. ACE Motorsport left the series at the end of 1991 leaving Bell without a drive for 1992.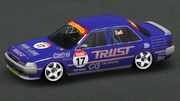 Throughout the winter of 1991-92, it was rumored that Bell would sign for the Peugeot Works Team, however he signed for Park Lane Racing, driving a year old Toyota Carina and attempting to defend his Independent title. Bell successfully defended the Independent title and managed to finish 3rd Overall in the Drivers championship also managing to win a race outright at the 8th round at Knockhill in Scotland.
Thanks to his exploits in 1991 and 92, Bell earned a contract at the works Nissan team partnering David Osborne and Jaz Hayward.
Motorsports career results
[
]
Complete British Touring Car Championship results
[
]
Races in bold indicate pole position (1 point awarded just for first race) Races in italics indicate fastest lap (1 point awarded)
(Key) (results in bold indicate pole position; results in italics indicate fastest lap)
Career summary
[
]