Nissan is currently involved in British Touring Car Championship as a constructor, under the name of Old Spice Nissan Racing. They have been associated with BTCC since 1991.
History
[
]
1991
[
]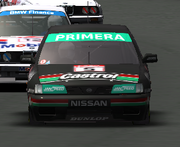 In 1991 Nissan saw the potential in competing and decided to join the series full-time. János O'dor was installed as the team principal, and Alan Heaphy as the team manager. Their drivers were David Osborne partnering Belgian racing driver Roy Cop and with sponsorship from Castrol oils, the cars had potential but required a lot of development work. The season started well as the Nissan was on the pace with Cop winning at the first meeting of the year. As the year went on, Nissan got stronger and with the disqualification of Toyota's Vik Rune, the Nissan looked like the car to beat. Despite late season pressure from Mitsubishi, Nissan took the Overall Drivers, Manufacturer Drivers and the Teams championship. Cop claimed the first STSR BTCC title taking 14 wins through out the year.
1992
[
]
In the winter between 1991 and 1992, Cop made the controversial decision to drive for Nissan's rivals, Toyota. Osborne would return and was joined by Patrick Babiche from Canada. Again, the Nissan team would be run by Janspeed. Babiche manged a podium on his debut but only ran a limited program in 1992 and the team was carried by Osborne. He managed 3 podiums throughout the year as he had done in 1991. With only 1 car scoring points in the majority of the races, Nissan finished in 3rd behind Vauxhall and Toyota. Osborne finished 5th in the championship with Babiche down in 9th.
1993
[
]
Nissan made a huge announcement for 1993 with double Independent champion, Mike Bell joining the team with Osborne staying on for a third term. From the fifth round at Brands Hatch, Jaz Evered would drive a third entry.
Motorsport career results
[
]
(Key) (results in bold indicate pole position; results in italics indicate fastest lap)