Pekka Ylitalo (born - - -) is a Finnish racing driver who races in the British Touring Car Championship for the Team Dynamics.
Touring Cars
[
]
Ylitalo signed for Peugeot alongside David Todaro from the US to drive in the 1992 British Touring Car Championship. Ylitalo fared better than his team mate. With a best finishing position of 4th at Knockhill and despite missing the 4th round at Snetterton, he finished an impressive 8th in the championship with more than double the points of his team mate.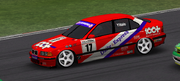 For 1993, despite better results than Todaro at Peugeot, Ylitalo left the team, eventually signing with Team Dynamics to try and win the Independent title. Ylitalo achieved a fantastic 5th place finish at Pembrey and eventually won the Independent championship. Before the end of the season, Ylitalo announced that he would be leaving Team Dynamics and the series to focus on his sportscar career, but was open to a return to the BTCC in the future.
Motorsports career results
[
]
Complete British Touring Car Championship results
[
]
Races in bold indicate pole position (1 point awarded just for first race) Races in italics indicate fastest lap (1 point awarded)
(Key) (results in bold indicate pole position; results in italics indicate fastest lap)
Career summary
[
]