Roy Cop (born 15 March 1965) is a Belgian racing driver who is best known for his time racing in the British Touring Car Championship for Nissan, Toyota and Ford. He won the 1991 British Touring Car Championship driving for Nissan.
Early Life
Edit
Cop was born on 15 March 1965 in Antwerp, Belgium.
Touring Cars
Edit
British Touring Car Championship
Edit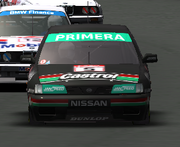 Cop's first year in the
British Touring Car Championship
was the inaugural season of the Super Touring era in
1991
. He signed for the Janspeed ran
Nissan
team, driving a Nissan Primera. For the first half of the season, he was locked in a championship battle with
Toyota
driver
Vik Rune
but when Rune was disqualified from the series after Round 6, Cop dominated the championship. After a run of 5 straight wins from race 24-28, Cop became the first ever Overall and Manufacturer Drivers champion. Another 3 podium finishes at the final meeting of 1991 ensured Cop won the title by a huge 131 points and helping Nissan win the Manufacturer Team's championship.
Cop made the controversial move from Nissan to arch-rivals Toyota in the winter between 1991 and 1992. Cop teamed up with 1991 runner-up Michael Sneath as the Toyota team began the season as favourites before a wheel was even turned. Cop outperformed his team mate throughout the year and was the nearest challenger to eventual champion, Lorenzo Turri of Vauxhall, winning 3 races on route to 2nd place in the championship.
For 1993, Cop teamed up with Turri to form the 'Dream Team' at Ford who were new to the series.
Motorsports career results
Edit
Complete British Touring Car Championship results
Edit
Races in bold indicate pole position (1 point awarded just for first race) Races in italics indicate fastest lap (1 point awarded)
(Key) (results in bold indicate pole position; results in italics indicate fastest lap)
Career summary
Edit
Community content is available under
CC-BY-SA
unless otherwise noted.