Vauxhall is currently involved in British Touring Car Championship as a constructor, under the name of Vauxhall Sport. They have been associated with BTCC since 1991.
History
1991
Dave Cook Racing was awarded the works contract to build the Vauxhall Cavalier for the British Touring Car Championship Championship starting in 1991. The drivers for the season would be Matt Hull from Ireland and Phil Dodge from the United States. The team failed to live up to pre-season expectations and finished 6th in the Manufacturer Teams championship with only two 5th place finishes from Hull. Both drivers were let go at the end of 1991.
1992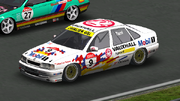 Still ran by Dave Cook Racing, Vauxhall Sport demanded more in 1992. After winning the 1991 Touring Car World Cup driving a Cavalier, Lorenzo Turri was hired and 1991 Independent championship runner-up, Kris Simton, joined the fold. Turri dominated the season with 19 wins and never finishing off the podium all year. Vauxhall and Turri cleaned up the championships with Simton finishing 6th in the drivers.
1993
Both 1992 drivers left the team with Turri joining the Ford project and Simton leaving for Toyota. This meant former driver, Matt Hull, would return to the team along with former Vic Lee Motorsport driver Josh Jones. Jones only competed at Rounds 1 and 3 but Hull drove with the team until Round 8. The Vauxhall had underperformed compared to the previous season and Hull would finish 10th in the championship, Jones 12th with the Vauxhall team finishing 5th in the teams standings.
1994
RML was awarded with the works deal in 1994 taking over from Dave Cook Racing. Hull stayed with the team and was joined by Jaz Evered who made the jump from Nissan.
(Key) (results in bold indicate pole position; results in italics indicate fastest lap)
http://upload.wikimedia.org/wikipedia/en/thumb/a/ae/Flag_of_the_United_Kingdom.svg/22px-Flag_of_the_United_Kingdom.svg.pngDavid Osborne
Community content is available under
CC-BY-SA
unless otherwise noted.